Draft
by Amy LV


This is poem #5 in this week's nonfiction challenge. Thank you to Jeannine Atkins for suggesting that I "stroll through more NATIONAL GEOGRAPHICS." I took her advice last night, moseying through a fascinating article about bowerbirds in the
July 2010 issue
. Did you know that besides humans, the bowerbird is the only animal to kill another animal for decorating purposes?
I first read about
bowerbirds
in this great book.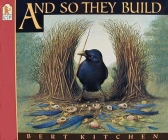 Students - sometimes it is wise to be open to listening to others' ideas about writing. I don't mean that we should expect assignments and continually ask, "What should I write?" But there are times when someone notices something in your work, times when a person makes a little hint that s/he would like to read more of something you have already tried. Maybe a friend or family member or teacher knows you well enough to imagine something you might enjoy writing or be show promise writing. That person may realize it before you do.
Parents and teachers - Today I am pleased to invite you to Here in the Bonny Glen, a beautiful, thoughtful, and enchanting homeschooling and literacy blog by Melissa Wiley. Among other books, Melissa is the author of both the Charlotte and Martha years books, stories about Laura Ingalls Wilder's great-grandmother and grandmother. This season she shares her Gift Ideas Roundup, and there are so many wonderful ideas for all of us. I had the chance to meet Melissa at KidLit Con this fall, and it felt like we'd known each other forever. Enjoy her blog...I sure do.
(Please click on COMMENTS below to share a thought.)