Hello Goodbye
by Amy LV
Click the arrow to hear me read this poem to you.
Students - In our old neighborhood, there lived a man who walked backwards. Up and down the sidewalks he would go, fast and without talking. We didn't know him, but we wondered about him. Today, ten years later, I find myself still wondering about him. When I sat to write on a blank piece of paper, he appeared. Why? I'm not sure. It may because we were talking about him the other day. It may because I've been reading THE BIG ORANGE SPLOT by
D. Manus Pinkwater
, first published in 1977, aloud a lot lately. This book celebrates living in your own way, and I admire people who do that.
Sometimes when we see something different, our first reaction is to dislike it or to make fun of it or to turn away. But if we think more deeply, we will often have a different reaction, perhaps one of admiration.
Do you know someone who may seem unusual in some way? What can you find to admire? What can you learn? What can you write? (Remember not to write something that will hurt someone else; words are powerful.)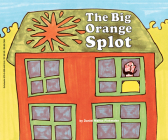 The structure of this poem is quite simple. It's written in a conversational style, almost as if the speaker is telling you a secret. And there's a bit of rhyme too. You may have noticed that the whole first part, the first nine lines, pretty much describe the backwards-walking-man. But as the poem zeroes in toward the ending, in those last four lines....you see the connection in the speaker's heart.
I am so happy to w
elcome
Angela Stockman
to
Sharing Our Notebooks
, my blog about writers notebooks,
this month. Visit
here
to take a peek inside her notebooks and leave a comment to be entered into a draw
ing to win one of her favorite books!
Please share a comm
ent below if you wish.