Students - our children all play musical instruments, and so we are lucky to have a house filled with songs. Sometimes when I listen to Hope, Georgia, and Henry playing, it feels as if their bodies have joined with their instruments - they sound so good! This reminds me of the feeling I used to occasionally have when playing piano or the all-happy-lost feeling I have sometimes while writing.
It is a wonderful gift to be at one with your passion. Today's poem came from that place, that feeling of connectedness to music and an instrument and all who have played it before.
Before bed last night, I read some poems aloud from A CHILD'S ANTHOLOGY OF POETRY edited by Elizabeth Hauge Sword. This is a splendid collection mixing old classic poems with new to-be classics. Highly recommended for reading aloud together or for adults and children to read quietly on their own.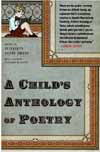 Parents and teachers - never underestimate the power of reading poetry aloud. In a short time, you crack open a whole world of language, experience, and beauty, of fun, playfulness, and wonder. There is always time to read a poem. And once you do...the poem is there forever.
I snapped today's photo at the girls' violin lesson. Their teacher's cat loves to snuggle into the instrument cases!
(Please click on POST A COMMENT below to share a thought.)